What is ARF? (Animal Relief Fund)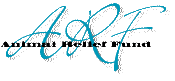 Mission Statement
To serve the community by responding to the
medical needs of homeless animals.
What is ARF? (Animal Relief Fund)
The Animal Relief Fund was started by members of the Jordan Creek Animal Hospital staff in order to help homeless animals brought to the clinic in need of medical care. To give these animals the care they need and deserve, staff members often donate time and money to provide the needed medical attention. Eventually, caring clients learned of the fund and made donations, bringing the Animal Relief Fund to life! Due to the generosity of all of these animal lovers, many animals have been helped, but there are many who still need our assistance.
How does the Animal Relief Fund work?
Unfortunately, there is a constant supply of homeless animals that need medical attention as well as homes. The Animal Relief Fund is designed for their preventative health care and immediate medical attention in emergencies such as bite wounds, fractures and other painful or life-threatening conditions. The primary goal of this program is to help provide health care for these animals.
The fund can only help these animals through the generosity of their human counterparts. We ask anyone who loves animals and would like to help, make a donation. All donations of any amount are appreciated. Any cash donation of $100 or more will be recognized with a nameplate on the Animal Relief Fund plaque that hangs in our lobby. The nameplate may bear the name of a beloved pet or of the generous donor.
"A Dog is the only thing on earth that loves you more than you love yourself."
-Josh Billings